Translation missing: en.products.product.price.regular_price
$2,695.00
Translation missing: en.products.product.price.sale_price
$2,695.00
Translation missing: en.products.product.price.regular_price
$3,449.00
$400 OFF order by Dec 15th -

Ships ~ Jan 7th - CODE: DELAY400
"Best health investment I've made"
-Paul R., Aussie Fitness Pros Customer
GET THE MOST EFFECIENT WORKOUT: Guaranteed to burn more calories than a typical treadmill, increase VO2 max levels, and improve speed, power, endurance, and coordination.
The Aussie Pro Runner is a low impact commercial grade curved treadmill with magnetic resistance designed to bring the athlete out in everyone.
15 people are viewing this right now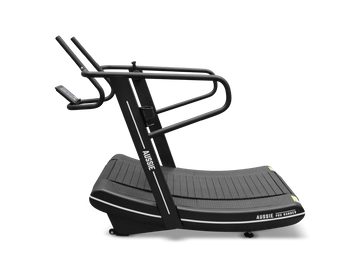 TURN UP THE POWER
With 7 levels of magnetic resistance and dual handle bars the AUSSIE PRO RUNNER is a versatile machine. The days of boring treadmill workouts are over. Fully engage your glutes, hamstrings, and core as you push yourself to new limits in sled mode. Then go no reistance and HIIT those sprints. The AUSSIE goes as fast as you go. As long as you can go. Walk, Jog, Sprint, Sled. LFG
Hear it from Dr Koh
DAVIS KOH, DPT, MBA, GCS, CSCS Chief Injury Officer/Chief Injury Specialist at KOH Physical Therapy Lab in Irvine, California
THE MOST VERSATILE RUNNER
The AUSSIE PRO RUNNER delivers the MOST effective workout your body can handle. Designed for athletes by athletes, this performance machine is guaranteed to burn more calories than a typical treadmill, increase VO2 max levels, and improve power, speed, coordination, and endurance. We built the Aussie for the athlete in you, whether you are just starting out or already going pro. How far you go is up to you.
"As a runningback powerful drive out of the back field is huge so the added resistance is great"
-Kenyan Drake, NFL Runningback
Shock absorbing running treads
Built to promote correct running form
7 Levels of resistance to diversify workouts
Programmable interval workouts
High contrast back lit console screen
Heart rate monitor Included
DUAL HANDLE BARS TO MAXIMIZE MUSCLE ACTIVATION
WATER BOTTLE HOLDER INCLUDED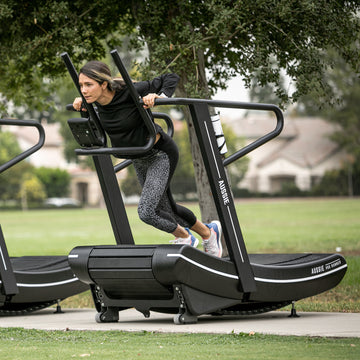 MINIMIZE THE IMPACT
The AUSSIE PRO RUNNER is a top choice for personal trainers, physical therapists, and rehabilitation centers. With a wide running area of 19" and shock absorbing treads, the impact is minimal, creating the opportunity to train without injury. Gone are the days of busted knees and sore backs. More gains. Less aches.
Built for the Athlete in You
SPECS
Non-Motorized
Machine Footprint: 79" X 36" X 60"
Running Footprint: 63" X 19"
Athlete Max Weight: 350lbs
Magnetic Resistance Dial to Use for Sled Mode
Black Powder Coat Finish Steel Frame
LED Display - Speed (Imperial or Metric ) x Distance x Time x Calories
WARRANTY
Frame: 5 years
Non-Wear Parts: 3 Years
Labor:  1 year
ASSEMBLY MANUAL
https://aussiefitnesspros.com/pages/owners-manual